KO Fightgear | Peak Athletics
Schools and Clubs
Schools and Clubs
Our business began by supplying schools in New Jersey with equipment that functions well and endures the constant use as in a school or sports club environment. Whether your needs are for facility equipment or resale, we offer the most aggressive program in the industry which translates into maximized profits for you.
You can also call us at: 1-800-270-4296 or 1-732-777-2127
As a service to the community we are listing KO Fightgear customer's school(s), club(s) and/or organization(s) below.
New and or past customers, if you would like to feature your school or club in our list feel free to send us your information. We ask that you keep it short and to the point, we also reserve the right to edit or not list your content entirely. Please email us the following:
School, Club or Organization Name.
Location.
Contact Information (Website - Phone Number - Email Address).
Photo of your school or logo.
What type of instruction and/or classes you offer.
School and Club Listings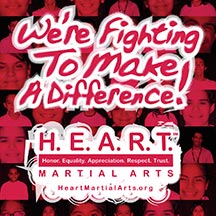 Name: H.E.A.R.T. Martial Arts
Location: Police Academy - 1 Lincoln Avenue, Newark, NJ 07104
Contact Information: Phone: 973-415-8869 - website: HeartMartialArts.org
Type of Instruction: Karate, Kick Boxing, MMA, Strength and Conditioning