KO Fightgear | Peak Athletics
Muay Thai Heavy Bag
Muay Thai Heavy Bag
Overview
Details
Military
Video
Testimonials

Made in the USA! In Stock and Ready to Ship!
Muay Thai Heavy Bag:
View Details Tab for full product info.
Bare Bones Pricing everyday!
Hand Crafted: Made in New Jersey, USA!
Facility level construction for max performance and durability.
Home gym and military installations to national pro sports teams.
Home gym to military installations.
Top shelf industrial grade components.
100% hand filled with only rag for the "Sweetest Feel" from top to bottom.
25 years bag manufacturing experience.
Included: Old school, real steel, chain assembly with swivel.
The Muay Thai bag gift that will make your special person "light up".
International Shipping Available - contact us for details.
Warranty: Only ironclad warranty in the industry.
Weight: 100 to 150 lbs.

100 lbs - 6' x 12" dia.
130 lbs - 6' x 13" dia.
150 lbs - 6' x 14" dia.
For more info or a shipping quote call 1-800-270-4296 or send a message to info@kofightgear.com.

Made in the USA! In Stock and Ready to Ship!
Muay Thai Heavy Bag:
Reputation is always earned. KO Fightgear Commercial Grade, Pro Level, Muay Thai Heavy Bags have earned an excellent reputation for engineering and durability.
Take a look at the Testimonials Tab to see what our customers are saying.
With the wide selection of Muay Thai heavy bags on the internet, you'll first need to see the light through the forest before selecting your bag. Whether you're purchasing Muay Thai bags for a fight school, a law enforcement agency, fitness center, college athletic program, major league sports team or that very special home gym, the following is an extremely informative and worthwhile read. We're in business since 2000 with many Muay Thai bags and heavy bags in the field. Our bags hang throughout the USA, including Hawaii, Alaska and also Canada, from the backyard shed all the way up to military installations (see the Military Tab for details). Do your homework before deciding on a Muay Thai bag. Search the net. Post on MMA/Combatives message boards to connect with others that have first hand experience with our bags. They're out there. Be leery of independent websites that review gear and equipment. Some could be shilling products. If you have any questions, be sure to contact us info@kofightgear.com. Purchasing a Muay Thai heavy bag is an investment and you want to get it right the first time. You want a Thai bag that performs at the elite level that will bring your game up, not waste your time. Our major business segment consists of customers ranging in age from 30 to mid 60s that have trained all their lives. They've trained on Thai bags from numerous sources and the common feedback is that the KO Fightgear Muay Thai bag is the best bag they've ever trained on. One customer really hit the nail on the head by expressing, "The last Thai bag I bought (KO Fightgear) should've been my first."
From the outside, all Muay Thai bags whether purchased from industry giants to the low cost discounters look the same. The first few times you train on them they may even feel the same. However, if you're not spending your money wisely, you'll wind up with a bag that will split, sag, sting and settle where the bottom of the bag feels like a brick and worst of all, does not perform to your high expectations.
A small, local shop here in New Jersey manufactures the KO Fightgear Muay Thai and heavy bags. They're in business over 25 years and based on this length of experience developed all the techniques for producing a long lasting, top notch product. They know how to construct a truly elite bag, both in the construction of the bag shell with an emphasis on heavily reinforcing the high stress points, capped off with that all important filling technique resulting in the all critical "sweet feel". Plus, each and every bag is 100% quality inspected by an expert before it becomes a KO Fightgear Muay Thai bag, tear drop bag, heavy bag and upper cut bag.
Next, we'll briefly list several points that distinguish the KO Fightgear Muay Thai bags from every other bag that's sold in the United States.
Thai Bag Shell - The cylinder wall of our bag is a single length of material with only one reinforced vertical seam. This does result in a higher component cost to us, but most importantly provides you a much stronger bag. You'll find Thai bags from other companies offering multi-colors that are only accomplished by using numerous vertical panels requiring numerous vertical seams that don't have the integrity of a single length of material. We use a specific heavy gauge non stretch vinyl with an embedded reinforced grid for extra strength. This is an industrial grade vinyl that performs true and tested for this application, both in function and durability. The material is described as feeling supple and flexible while easy to maintain. You can pound on the vertical seam all day long, and the "feel" is the same as any other surface point on the bag. There is no sting. Our material offers tremendous savings compared to leather which brings down the cost of the bag to you. Just as with leather, vinyl covers a broad quality range of materials and we only use the best. The issue with leather bags is that leather is a natural material that sags. Plus, leather currently used on bags is the lowest grade possible, really just a marketing buzz word. The "real deal" leather bag, that smells and feels like upholstery leather with supple flexibility, supported so it won't sag would be cost prohibitive and actually unnecessary.
Pain Relief - We have customers that suffer hand, elbow and shoulder pain from early signs of arthritis and years of wear and tear. We receive their feedback that by training with our bags, emphasizing the responsiveness of the fill characteristic, pain level is often reduced and on occasion disappears. Read the next paragraph for detail on our filling process.
Filling Process - We only sell factory filled Thai bags and heavy bags. Our customers deserve to train on the top performing bag in the USA while obtaining full value for their money. Some of you do know how to fill a Thai bag, but for the DIY though meaning well, will at best wind up with a mediocre bag which surely isn't for you, and not for us. We want your training regimen to advance to the next level, not stagnate and waste time. Our hand filling is a technical and tedious process, a science. The fill material is 100% new, clean rag, selected for fiber content and characteristic. Two extremely experienced guys can only fill 10 bags in a day and that's total output between the two of them. As the bag is slowly fill loaded and compressed in vertical stages, the rag is blended so once the filling process is completed the bag has the specific feel, that right amount of "give", "bounce" from top to bottom, not a dead thud. Our bags are described by customers as "not hard, not soft, but sweet". Plus, you don't have the issue of material settling to the bottom of the bag so it feels like a brick. We have a customer that takes fights in Thailand that told us the KO Fightgear Thai bag is the best feeling bag he's ever trained on and that's, anywhere. Bags with a foam liner are a gimmick. Stay clear of bags that are quick filled using inferior mechanical/hydraulic methods which are touted by our competitors. They'll dump a slurry of rag or a combination of rag with other filler into their bag and then bang down with a mechanical/hydraulic piston, the top lid is zippered closed and ready for sale. A telltale indicator of a mechanical/hydraulic filling process is that you'll find density compression variations with bulges and thin spots along the length of a bag. These are obvious flaws in their manufacturing process which result in a disappointingly lopsided fill that you will feel on impact. Our hand filled method provides a calibrated inch by vertical inch filling process so the finished product has a consistent girth and feel from top to bottom.
Hanging Straps/Chain Assembly and Bag Closure - We get the phone calls and messages from school owners about bags they've purchased even from high dollar brand names and industry giants that suffer early fatigue failure which includes hanging straps. Our proven traditional hanging system consists of hanging straps secured to a chain assembly which is designed to go the long haul. Remember, our bags are manufactured to perform at the pro level. With the stress of a bag being banged around, the chain links of the chain assembly absorb the shock, not the hanging straps. If you scroll down, you'll see an image of our suspended Thai bag with hanging strap/chain assembly. You'll notice too that our hanging straps are mounted above the bag, not on the side so abrasion is eliminated and you have full uninterrupted vertical contact range of the bag. A couple of years ago, a school owner unpacked our tear drop bag and accidentally slit half way across a hanging strap. Upon receiving notice, we immediately sent him a section of hanging strap material with the instruction for an industrial sewer to bridge the material over the slit and stitch both ends to the original strap. A year later he gave us a call for Thai pads and I asked him about the bag. He never repaired the hanging strap. Even with the hanging strap cut half way through, the damage did not spread and the strap performed fine. This is an example of the over engineering that goes into our bags. We don't use zippers to close the top lid of our bag. Zippers are mechanical parts and mechanical parts break. We lace through steel grommets and fasten closed with a secure knot.
Stabilizing Bag Safety Factor - Our Nylon Loop vs. their Steel D ring - Our bag by design has a soft nylon loop, not a steel D ring located at the center of the bag underside for controlling movement. Intentionally, there are no hard surfaces on our bag from the underside to top. In case of an errant leg strike, the potential for foot injury is greatly diminished.
Shipping Cost Explanation 150 lbs vs. 130 lbs. We ship bags up to 150 lbs to your door by UPS Small Package service. When cost effective, we ship multiple bag quantities by UPS Freight. Our 150 lbs, 6 foot Muay Thai bag is a robust bag that exceeds the UPS Small Package height and girth threshold resulting in the "large package" surcharge. This is an additional UPS charge that results in a significant increase above the standard shipping rate. We are up front about this cost. When an order is received for a 150 lbs Muay Thai bag, we quote shipping cost for both the 150 lbs and 130 lbs so our customer can review both options. Our 130 lbs Muay Thai bag is our number one seller, a seriously stout product that is also designed for aggressive applications.

We were contacted by a fitness facility that had issues with a 150 lbs Muay Thai bag purchased from another company, an internet advertiser. Surprisingly, after our inspection, though advertised as a 150 lbs bag, dimensions and weight were more in line with our 130 lbs. This comparison is only for dimensions and weight. Their product does not match up to the structural integrity, durability, and the all so special "sweet feel" of a handmade KO Fightgear Muay Thai / heavy bag. We know that our customers are plenty wise in understanding the reality of cost. Our customers make their decisions based on needs and goals. When you purchase from KO Fightgear, you are buying from a "deception free" zone.
Color Selection - You'll find a company that offers 144 color options for their heavy bags and exclaim the reason as, "Don't be boring, have some fun!." That works fine for sampling lipstick shades at the cosmetic counter or selecting a topping for an ice-cream cone. We're not in the mix and match business, we're in the heavy bag business. We look equally at the manufacture of our bags and your training program, both based on dedication and accomplishment. "Fun" only lasts a few simple moments while accomplishment lasts forever. We have customers that prefer the classic "Plain Jane" look of our bags, similar to a "sleeper" hot rod. They're tuned into the uncluttered appearance of a solid color, our minimal branding with no garish logos or bloated alphabet letters, components well aligned, tight stitching and that all critical fill job. We receive much gratitude for this concept. We also have customers that are tuned into multi colors and intrusive graphics that say; "This bag is ugly, but I love it!" We stock solid black bags and do offer a color variety of black, red, and royal blue.
Product Warranty - We go over the top in craftsmanship and materials so our Thai bags and heavy bags crank out high mileage. All our bags come with a full one year warranty against manufacturer's defect. If there's a defect it would surface immediately. There's only been a handful over the years and again we encourage you to check the forums to confirm the durability and longevity of our product. Our longstanding policy is to ship a factory fresh filled replacement bag at no extra charge to you. Recently, a security contractor in Afghanistan sent a requisition to his company's purchasing agent for Thai bags and Tear Drop bags and we received the order. The requisition specification was for "KO Fightgear product only". This is a strong indicator of confidence in the integrity of our heavy bags. There are longer warranties out there, different terms, but they aren't exactly as if John Hancock or John Henry is signing on the dotted line.
Local Pick-Up - If you're traveling on the east coast, along I-95 and are heading through Central New Jersey, we'll coordinate to meet you near The NJ Turnpike exit No 10. We've hoisted our share of bags on to big rig sleepers. In fact, if you'll tell us in advance how you like your coffee, besides saving on the shipping charges, we'll tote you a fresh cup. We'll accommodate your schedule including weekends.
Shipping to Puerto Rico and the Caribbean - We're creative in assisting you to lower your shipping cost. We're located in Central New Jersey, a short distance from New York City. A customer pick-up can be done at our facility. You can then ship by one of the specialized shipping companies located in New York City that services your destination.
International Shipments - We're located only 18 miles from the ocean port of Newark, New Jersey and near all New York City area international airports. We ship ocean LCL (Less Than Container Load) and FCL (Full Container Load). We offer a crating service for LCL shipments for the prevention of transit damage loss.
If you have an idea, let's talk! Since you're shopping for a Muay Thai bag, you may also want to give our 120 lb. tear drop bag a look.
Keep the following thought in mind during your decision-making process. Unlike a tank or two of gasoline, purchasing a bag is a one-time, long-term purchase, so it pays to get the best. Do not judge us against the low cost bags, but against the high dollar brands and if you do, you'll find significant savings, about $100.00 in selecting our product. But more so, you're purchasing a far superior bag and this we assure you. Besides, we're "Average Joes" offering the most extraordinary heavy bags.
Since you set aside your time to read through all the above information, you're now a Muay Thai bags and heavy bags expert and we trust that you will use this knowledge accordingly and consider KO Fightgear for your Muay Thai bag and heavy bag requirements. Thank you for reading.
For more info or a shipping quote call 1-800-270-4296 or send a message to info@kofightgear.com.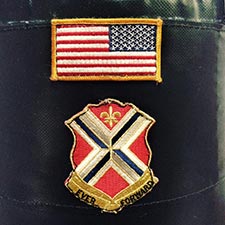 Muay Thai bag displayed: Ever Forward - 116th Infantry Regiment, Virginia Army National Guard.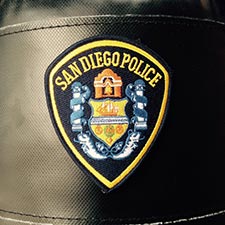 Muay Thai bag displayed: San Diego Police Department, California.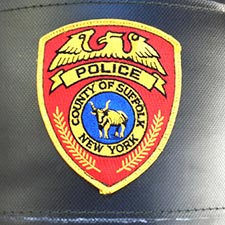 Muay Thai bag displayed: Suffolk County Police Department, New York.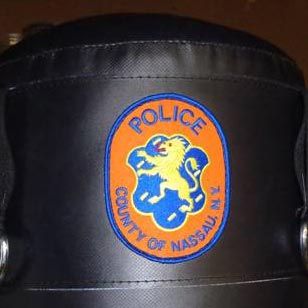 Muay Thai bag displayed: Nassau County Police Department, New York.
---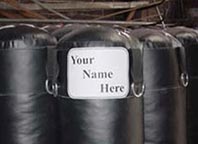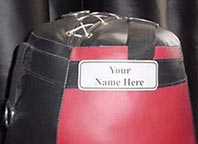 Here is an example of a custum silkscreened logo we did for the United States Navy Recruit Training Command.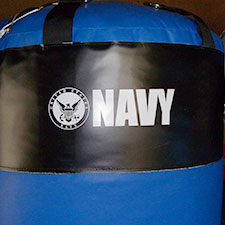 Beauty vs. The Beast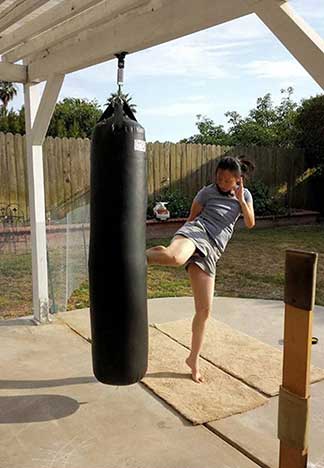 KO Fightgear 130 lbs Muay Thai bag vs. 5' 1" of natural beauty, matched with skill and power. No garish graphics nor bloated alphabet letters. Timelessly old school.
— Sandy and Gabe - Rancho Palos Verdes, CA
Sandy and Gabe, Thank you for sharing.
Note: Rigging system was modified by customer. Bags come with chain assembly and swivel.
Every KO Fightgear Bag is Handcrafted!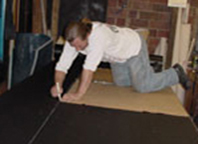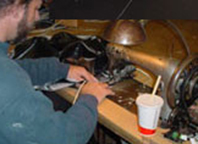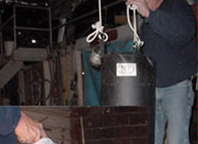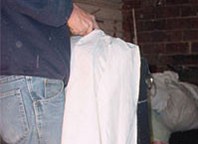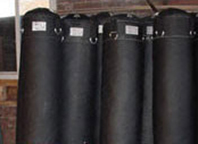 Both the KO Fightgear Thai and Tear Drop Bags are 100% rag stuffed with absolutely NO SAND FILLER!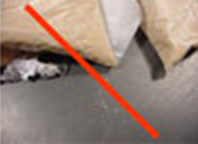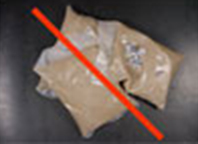 This is how a name brand competitor makes bag weight. By inserting plastic pouches filled with sand that are mixed in with filler. As their thai bag is worked, the shock of repeated impact causes the plastic pouches to shift and fail. Between agitation and gravity the sand migrates, settling at the bottom of the bag and making the lower portion feel like a brick. Both the KO Fightgear Thai and Tear Drop Bags are 100% rag stuffed with absolutely no sand filler!
James Simrell MMA Gym—Scranton, Pennsylvania—Bag placed in service March 2008—Photo taken February 2012!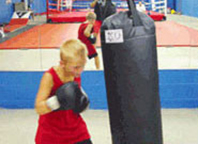 Attention to detail and care is taken during every step of the bag production process - including packing and shipping!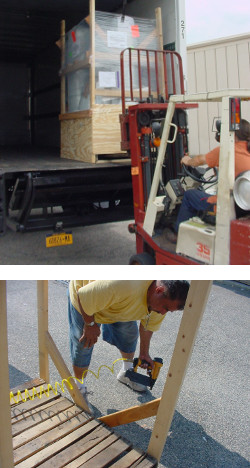 Here's an open wall crate being constructed for a multi bag order loaded at our facility in New Jersey. The customer's destination is Vancouver, British Columbia, Canada.
We're proud of the quality of our products - We stand behind them - Call us if you have any problems - We're here to help!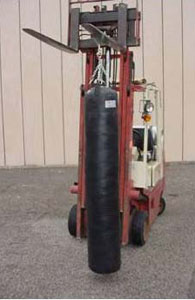 A customer asked for a more detailed photo of the Muay Thai bag so we strapped the 130 lbs, 6'x13" diameter Thai bag to our high/low. When the lunch bell sounds, secure a fork extension to the company high/low, rig up a bag and you've got yourself some serious lunchtime training.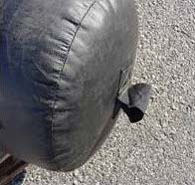 Here's a view of the underside of the bag. A nylon loop is sewn at the center of the bottom lid. If you want to control bag swing, bungee from the loop to a fixed point. Keep in mind the bag does require movement in order to bleed off the force of the blow.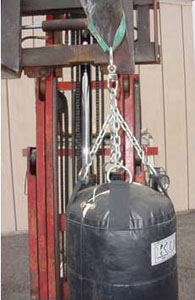 You'll notice from this image that our bags are laced closed and not zippered. We don't use zippers because zippers break!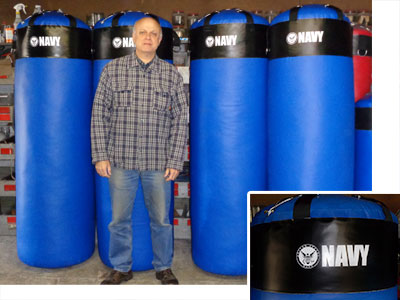 The Navy did extensive research on bag manufacturers before selecting KO Fightgear
Military Installations
We are honored that the US Navy Recruit Training Command - Great Lakes, IL called on KO Fightgear to supply 400 lbs heavy bags for its Boot Camp program. The Navy did extensive research on bag manufacturers before selecting KO Fightgear, noting that our bags are rated for the most aggressive training environments. To provide a sense of scale to the 400 lbs / 6 feet x 24 inch diameter heavy bags, our human gauge stands at 6 feet and weighs in at 185 lbs.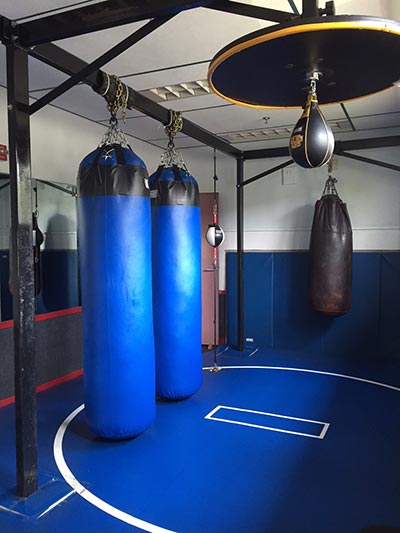 The United States Naval Air Facility - Atsugi - Kanagawa Prefectur, Japan: Installed two KO Fightgear, 300 pound heavy bags.
Naval Air Facility - Atsugi
Based on the top level performace of our 400 pound heavy bags installed at the Naval Station Great Lakes, we were referred to Naval Air Facility - Atsugi for the purchase of KO Fightgear 300 pound heavy bags. Their purchase is a tremendous commitment; factoring costs of bags, along with both transcontinental and Pacific Ocean transportation. Referrals are the backbone or our business, not paid clicks.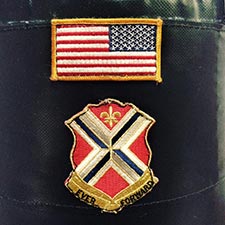 ---
For more info or a shipping quote call 1-800-270-4296 or send a message to info@kofightgear.com.
Muay Thai Bag - Video Demo
Muay Thai Bag - Video Demo
Muay Thai Bag - Video Demo
---
For more info or a shipping quote call 1-800-270-4296 or send a message to info@kofightgear.com.
Boxing and kickboxing are two activities that many employees at ESPN enjoy doing during their workout. Our heavy/Thai bag always gets a lot of use and we were looking for one that would withstand the test of time. As we were searching for our 3rd replacement bag, we stumbled upon the KO Fightgear website. We loved what we saw but more importantly the service that was given to use by Neil. He made recommendations on what would be best for us, how to properly care for the bag and then has checked in to make sure things are still going well. Originally we thought a bag was a bag but we were clearly wrong. Stumbling upon the KO Fightgear website most likely has saved us from needing to look for another bag in the near future. Being at ESPN, many athletes come through our doors and recently two UFC fighters went a few rounds on the bag... they too were very impressed with the quality.
— Mike D. ESPN Wellness Manager - Southington, CT
Mike was kind enough to provide a link to a video of one of their events where the KO Muay Thai Bag can be seen in the background at the 3:57 time mark. Thanks Mike!!!
---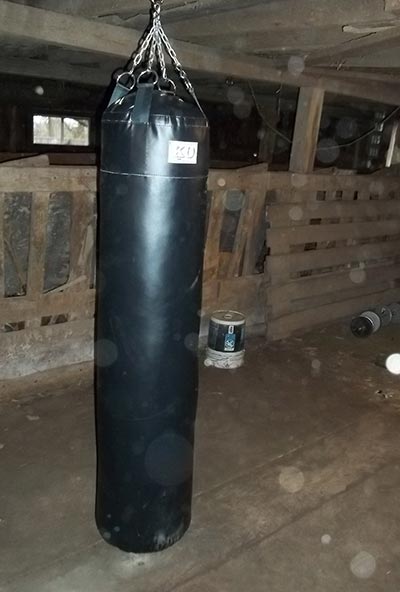 "The difference between my old, sand-settled bag and this one is night and day"
Neil,

The bag arrived yesterday and it's mounted at my dad's place in the barn. Here's a link to a few pics I took if you're curious (link removed).

I got to work it over for a 6 round session and it was a joy. The difference between my old, sand-settled bag and this one is night and day. I'd forgotten what the proper feedback from the bag while striking it would be - it really makes you brace your entire body since the new one does not cave in from a jab. A great thing, and it sucks my old one lacked so much there.  Not that I'm doing training for anything in particular. I just like doing it to keep in shape. Plus I get a little inspiration from my grandpa who used to tell me how he would punch a sack of feed after doing his chores in the barn while he was growing up in during The Depression. And actually he and a couple of his brothers would go to some amateur boxing tournaments, even to one in Des Moines.

Anyhoo, many thanks for helping me get the right bag. If anyone ever says their looking for a bag I'll point them to your site.
— James - Buffalo Center, IA
---
"I can recommend this bag with the highest confidence"
I'm 2 months into my second year with your 130lb Thai bag. I've destroyed 2 300lb springs, 3 pairs of gloves and 1 joist hanger eye-bolt and this bag is STILL at the same level of awesome as the day it arrived. After a year of abuse in an open air garage setting, I can recommend this bag with the highest confidence. Thanks again for such a great product.
— Bob J. - Winter Springs, FL
---
"this bag screams QUALITY!"
Hi Neil,
This is Russ from Squaw Valley. Just emailing you regarding your bag. This thing is a beast!! Compared to other high end bags, (three at my gym where I train), it definitely kicks their butt. The pack is nice and tight, tough outer shell, the stitching, literally everything about this bag screams "QUALITY!". These days it is hard to find quality with value, and you nailed it man. I put it through a few workouts so far and LOVE IT. It's almost a shame to beat the heck out of something so nice but that's what it's for. As far as packaging and shipping, it made it from the east coast to the west coast unscathed. The wrap job you guys did was awesome. Thanks again. Look forward to doing business with you again. 2 thumbs up!!!!
— Russ E. - Squaw Valley, CA
---
Neil, I have the bag up and have been working out on it. I must say it has a very nice impact response; just enough resistance, blow absorption and movement away from the strike- the perfect bag! thanks again
— Marshall N. - Albuquerque, New Mexico
---
"I will absolutely recommend this bag"
Hey Neil,
I have been literally pounding away on my bag for weeks now, I have to say that I have never used a bag so well packed in my life. I have used dozens of brands and models but this truly performs like no other. I was a little reserved on the shell being vinyl but after using it I actually prefer the vinyl you use to leather shelled bags. I can hit the bottom of the bag with full force kicks and I don't have to fear breaking my shins or feet. The bag is really not too firm or too soft. I am glad that I made this wonderful investment in your product and could not be happier. Keep up the good work I will absolutely recommend this bag to anyone who will listen. Take care,
— Anthony D. - Auburn, AL
---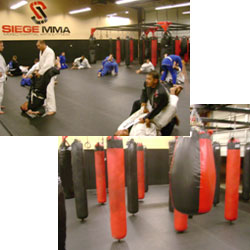 "The quality is great!"
I am so sorry it has taken me so long to reply. Things have been crazy for us! Anyway, I just wanted to let you know that we love all of the gear that we've bought from you. The quality is great!
I've included some photos of our gym (finally!). You can see our layout and how great all of your heavy bags look!
Talk to you soon,
Seige MMA, Surprise Arizona - Chip Kirk, Owner
(Note: Muay Thai and Tear Drop bags are all supplied by KO Fightgear. Chip requested a two-tone bag so we made a few red bags with black collars. When Chip first contacted us about outfitting his school, we first mentioned for him to pick up a single bag for field trials. Needless to say, after testing, Chip placed the complete order.)
---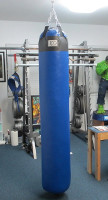 "It just feels so good to hit. And it has zero sag just as advertised"
Hi Neil,
How are you doing? I hope all is well and that business is booming! I just wanted you to know that it has been 4 months of using my 130# Thai bag with daily pounding. It feels the same today as it did the first time I used it. It just feels so good to hit. And it has zero sag just as advertised. I also love the royal blue color I chose. It is the best bag I have ever used and I am glad I spent the money to have it shipped all the way over to me here in Hawaii. I just can't say enough of what a beautiful bag it is and how great it feels to pound on! Thank you for all your time and help Neil! I will be back for your teardrop bag!
— Your friend in Hawaii, - Irv P. - Pearl City, Hawaii
---
"that's no missile, that's my new therapist"
Hi Neil,
The bag is awesome. I had to hang it from a 2x6 that is lag bolted across two rafters in my living room ceiling. Which I don't think my landlord would appreciate if and when he ever sees it. Even with the 2x6 I still have about 4" of clearance from the floor so the bag fits just fine. I've gotten two really good extended workouts on the bag so far and I must say I'm loving it, though I don't think my neighbors are to happy. The bag is solid but with just enough give, it feels the same top to bottom, thumbs up on a good product. My brother, also a former Marine, walked into my Apt., was shocked by the bag hanging in my living room and asked me "what the hell do I have a 'SCUD' missile in the middle of my living room for", to which I replied, "that's no missile, that's my new therapist." It was a pleasure meeting you as well as doing business with you, you definitely have my endorsement.
— David
---
"this is the best bag... I can't resist hitting it everyday"
Hi Neil,
Sorry for the late reply. I did hang the bag and started pounding on it since day one. I'm impressed by the tightness/hardness from top to bottom of this bag. This is my fourth bag since I started martial arts and I would say that, this is the best bag that I can't resist hitting it everyday. Thank you so much.
— Regards, - Modesto B. - Sun Valley, CA
---
"WOW! This bag is more than I expected"
WOW! This bag is more than I expected. Here is what I love so far:
Number one..it is the nicest looking banana bag I have ever seen.
The fill in it is packed nice and tight
The top straps make it quiet (and doesn't bother my wife when I beat the crap out of it)
When it is kicked, it seems to buckle nicely but not too much
When striking it makes a great smacking sound
The quality and craftsmanship is in all the small details of the bag eg: stitching, fill, packaging, etc.
While my friends are still trying to figure out how to fill their overpriced fairtex bags, I am punching and kicking with my new bag and I saved money...lol
Seriously great job to you and your team. Thanks a ton.
— Chris P., - Jacksonville, Florida
---
"my favorite bag of any I have used"
This is, without a doubt, my favorite bag of any I have used in my home or the gym. It's packing gives a consistent hardness throughout the bag, and after hanging for a long time, it doesn't settle like so many bags do, and after being hit for so long it doesn't soften up in those areas.
All told, it's just a typical high quality product I have really come to expect from KO Fightgear, you're the best.
— Dan B. - Twin Cities, MN
---
"I love your products and will always look to KO FIGHTGEAR FIRST!"
I ordered a banana bag from you guys in July over the phone while home from overseas duty. You were extremely pleasant and expedient. Now that I am home finally, I have made good use of the bag. I love your products and will always look to KO FIGHTGEAR FIRST!!!!!!!!!!
— SSG Devon O. U.S.Army - Wichita, KS
---
"It arrived promptly and in perfect condition"
Just wanted to thank you for the wonderful bag! It arrived promptly and in perfect condition. My boyfriend loves it. It was a pleasure doing business with you and your company.
— Best Wishes, - Jaime H. - Massapequa, NY
---
"I love the new heavy bag. It's taking a serious beating"
Neil, I just wanted to let you know that my son and I love the new heavy bag. It's taking a serious beating almost every day and I believe that this bag will be around for a good long time. It looks great and the workmanship is second to none. I couldn't be more pleased. I look forward to doing more business with you soon. I couldn't be happier with the way you do business and the quality of your products. Thank you for everything.
— Eric U. - New York City Police Department - Retired - New Hampton, NY.
---
"...as always got into a nice conversation with him about the old days. He is a good guy."
AHHHH!!!
I just order a 150lb bag from Neil at KO Fightgear. I didn't know he had them in stock. Because I live in NJ, I could go pick it up....It's a 14x72, 150lb... That is what I was looking for all along and I didn't know he could have them in a few days.
Anyway as always got into a nice conversation with him about the old days. He is a good guy. I'll write a review on the bag.
— www.rosstraining.com forum member - Chase - Forum review link
---
"...great customer service..."
Thanks for the recommendation for KO. I contacted them and Neil responded quickly; great customer service there. Through our dialogue I decided to go with the 130 lb Thai bag... Thanks again. Tom
— www.rosstraining.com forum member - Shoeless Tom - Forum review link
---
"...Their customer service is outstanding...The stiching looks nice and tight and the material seems very sturdy. I'm especially happy with the straps that the chain attaches too..."
Product Review - KO Fightgear Thai Banana Bag
So, I've move up to the hinterland of Hillsboro, TX and the only MA school in town is a TKD McDojo. I'm working 12 to 16 hours a day with my new teaching job, so don't have the time right now to make it down to Waco to train with the Relson Gracie Baylor Association. So, if I can't get to a dojang/dojo, I figured I'll do what I've done in the past in similar situations and bring the dojang to me. First step, get a heavy bag. I wore out my Everlast bag and was going to try and rehab it, but it got lost in the move. Besides, it wasn't really all that great a bag to begin with.
I tried to get some feedback here on good Thai banana bags to get (I really need to work on my leg kicks), but didn't get much responce. From their Web site, KO Fightsports looked like they have a good product and for a reasonable price. Since I'm hanging this outside, I did not want a leather bag, so the synthetic option works just fine for me. It just came via UPS today and here are my impressions so far.
Their customer service is outstanding. I ordered the bag on Friday and the owner called me on Sunday at home to confirm that I was OK with the shipping charges, since he wanted to get it to me ASAP but was worried with how much UPS was going to charge.
It was well wrapped with a nylon bag inside a bunch of plastic wrap. The UPS guy was not happy hauling it out of his truck and luckily I just happened to be driving up when he arrived, so my wife didn't get stuck trying to haul a 135lbs of bag out back.
The stiching looks nice and tight and the material seems very sturdy. I'm especially happy with the straps that the chain attaches too, since this is what crapped out on my Everlast bag.
I'm a little worried about the structural integrity of the porch roof I'm hanging the bag from. Perhaps some of you with experience in this area would care to chime in.
You can hear the structure rattling and shaking when I hit the bag.
(Edit - YouTube video no longer available.)
I could try and hang it in our garage.
But even if I cleared out the junk to make room for it, the florr is broken and crappy and there isn't a whole lot of room to move around.
I'll update as I get more use out it to let y'all know how it's holding up. In the meantime, any opinions on where I should hang it?
Oh, and here's their Web site.
— www.bullshido.net forum member - TEA - Forum review link
---
For more info or a shipping quote call 1-800-270-4296 or send a message to info@kofightgear.com.