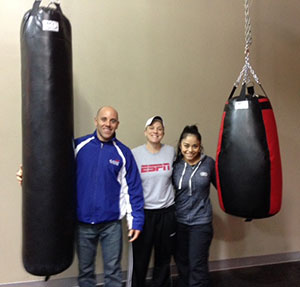 Boxing and kickboxing are two activities that many employees at ESPN enjoy doing during their workout. Our heavy/Thai bag always gets a lot of use and we were looking for one that would withstand the test of time. As we were searching for our 3rd replacement bag, we stumbled upon the KO Fightgear website. We loved what we saw but more importantly the service that was given to use by Neil. He made recommendations on what would be best for us, how to properly care for the bag and then has checked in to make sure things are still going well. Originally we thought a bag was a bag but we were clearly wrong. Stumbling upon the KO Fightgear website most likely has saved us from needing to look for another bag in the near future. Being at ESPN, many athletes come through our doors and recently two UFC fighters went a few rounds on the bag... they too were very impressed with the quality.
Mike D. ESPN Wellness Manager - Southington, CT
Mike was kind enough to provide a link to a video of one of their events where the KO Muay Thai Bag can be seen in the background at the 3:57 time mark. Thanks Mike!!!
---
I'm 2 months into my second year with your 130lb Thai bag. I've destroyed 2 300lb springs, 3 pairs of gloves and 1 joist hanger eye-bolt and this bag is STILL at the same level of awesome as the day it arrived. After a year of abuse in an open air garage setting, I can recommend this bag with the highest confidence. Thanks again for such a great product.
Bob J. - Winter Springs, FL
---
Hi Neil,
This is Russ from Squaw Valley. Just emailing you regarding your bag. This thing is a beast!! Compared to other high end bags, (three at my gym where I train), it definitely kicks their butt. The pack is nice and tight, tough outer shell, the stitching, literally everything about this bag screams "QUALITY!". These days it is hard to find quality with value, and you nailed it man. I put it through a few workouts so far and LOVE IT. It's almost a shame to beat the heck out of something so nice but that's what it's for. As far as packaging and shipping, it made it from the east coast to the west coast unscathed. The wrap job you guys did was awesome. Thanks again. Look forward to doing business with you again. 2 thumbs up!!!!
Russ E. - Squaw Valley CA
---
Neil, I have the bag up and have been working out on it. I must say it has a very nice impact response; just enough resistance, blow absorption and movement away from the strike- the perfect bag! thanks again
Marshall N.
Albuquerque - New Mexico
---
Customer testimonial on Sherdog
---
Hey Neil,
I have been literally pounding away on my bag for weeks now, I have to say that I have never used a bag so well packed in my life. I have used dozens of brands and models but this truly performs like no other. I was a little reserved on the shell being vinyl but after using it I actually prefer the vinyl you use to leather shelled bags. I can hit the bottom of the bag with full force kicks and I don't have to fear breaking my shins or feet. The bag is really not too firm or too soft. I am glad that I made this wonderful investment in your product and could not be happier. Keep up the good work I will absolutely recommend this bag to anyone who will listen. Take care,
Anthony D.
Auburn, AL
---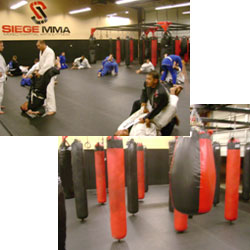 Hi Neil!
I am so sorry it has taken me so long to reply. Things have been crazy for us! Anyway, I just wanted to let you know that we love all of the gear that we've bought from you. The quality is great!
I've included some photos of our gym (finally!). You can see our layout and how great all of your heavy bags look!
Talk to you soon,
Seige MMA, Surprise Arizona - Chip Kirk, Owner
(Note: Muay Thai and Tear Drop bags are all supplied by KO Fightgear. Chip requested a two-tone bag so we made a few red bags with black collars. When Chip first contacted us about outfitting his school, we first mentioned for him to pick up a single bag for field trials. Needless to say, after testing, Chip placed the complete order.)
---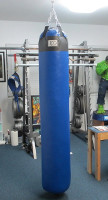 Hi Neil,
How are you doing? I hope all is well and that business is booming! I just wanted you to know that it has been 4 months of using my 130# Thai bag with daily pounding. It feels the same today as it did the first time I used it. It just feels so good to hit. And it has zero sag just as advertised. I also love the royal blue color I chose. It is the best bag I have ever used and I am glad I spent the money to have it shipped all the way over to me here in Hawaii. I just can't say enough of what a beautiful bag it is and how great it feels to pound on! Thank you for all your time and help Neil! I will be back for your teardrop bag!
Your friend in Hawaii,
Irv P.
Pearl City, Hawaii
---
Hi Neil,
The bag is awesome. I had to hang it from a 2x6 that is lag bolted across two rafters in my living room ceiling. Which I don't think my landlord would appreciate if and when he ever sees it. Even with the 2x6 I still have about 4" of clearance from the floor so the bag fits just fine. I've gotten two really good extended workouts on the bag so far and I must say I'm loving it, though I don't think my neighbors are to happy. The bag is solid but with just enough give, it feels the same top to bottom, thumbs up on a good product. My brother, also a former Marine, walked into my Apt., was shocked by the bag hanging in my living room and asked me "what the hell do I have a "SCUD" missile in the middle of my living room for", to which I replied, "that's no missile, that's my new therapist. It was a pleasure meeting you as well as doing business with you, you definitely have my endorsement.
David
---
Hi Neil,
Sorry for the late reply. I did hang the bag and started pounding on it since day one. I'm impressed by the tightness/hardness from top to bottom of this bag. This is my fourth bag since I started martial arts and I would say that, this is the best bag that I can't resist hitting it everyday. Thank you so much.
Regards,
Modesto B. - Sun Valley CA
---
WOW! This bag is more than I expected. Here is what I love so far:
Number one..it is the nicest looking banana bag I have ever seen.
The fill in it is packed nice and tight
The top straps make it quiet (and doesn't bother my wife when I beat the crap out of it)
When it is kicked, it seems to buckle nicely but not too much
When striking it makes a great smacking sound
The quality and craftsmanship is in all the small details of the bag eg: stitching, fill, packaging, etc.
While my friends are still trying to figure out how to fill their overpriced fairtex bags, I am punching and kicking with my new bag and I saved money...lol
Seriously great job to you and your team. Thanks a ton.
Chris P., Jacksonville, Florida
---
This is, without a doubt, my favorite bag of any I have used in my home or the gym. It's packing gives a consistent hardness throughout the bag, and after hanging for a long time, it doesn't settle like so many bags do, and after being hit for so long it doesn't soften up in those areas.
All told, it's just a typical high quality product I have really come to expect from KO Fightgear, you're the best.
Dan B. - Twin Cities, MN
---
I ordered a banana bag from you guys in July over the phone while home from overseas duty. You were extremely pleasant and expedient. Now that I am home finally, I have made good use of the bag. I love your products and will always look to KO FIGHTGEAR FIRST!!!!!!!!!!
SSG Devon O. U.S.Army - Wichita, KS
---
Just wanted to thank you for the wonderful bag! It arrived promptly and in perfect condition. My boyfriend loves it. It was a pleasure doing business with you and your company.
Best Wishes,
Jaime H. - Massapequa, NY
---
Neil, I just wanted to let you know that my son and I love the new heavy bag. It's taking a serious beating almost every day and I believe that this bag will be around for a good long time. It looks great and the workmanship is second to none. I couldn't be more pleased. I look forward to doing more business with you soon. I couldn't be happier with the way you do business and the quality of your products. Thank you for everything.
Eric U. New York City Police Department - Retired
New Hampton, NY.